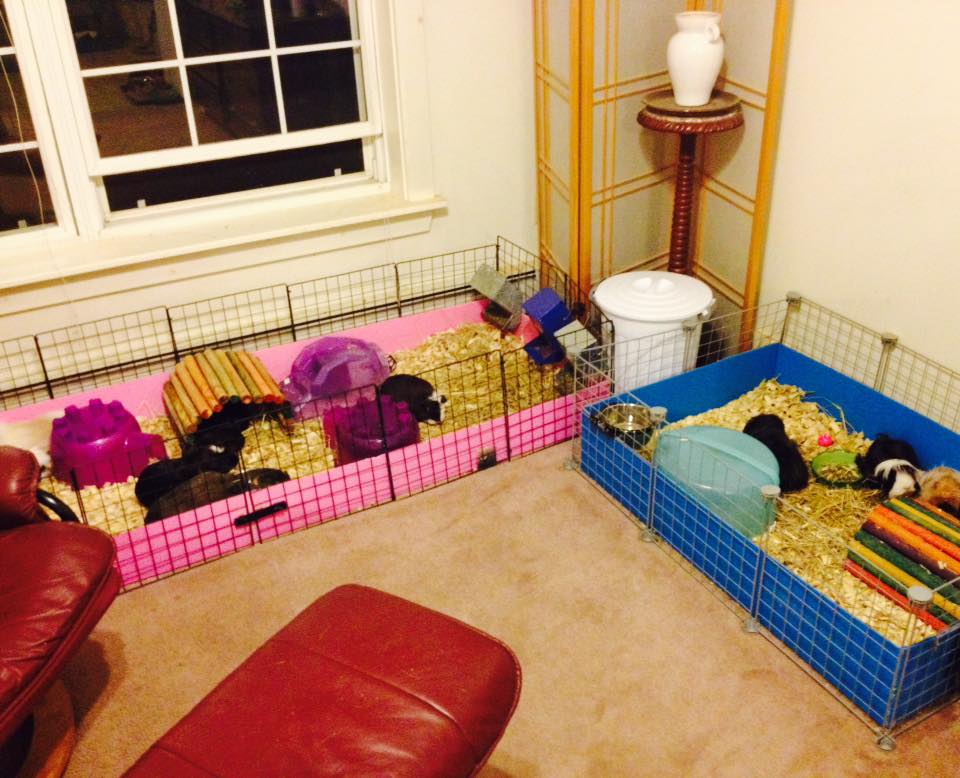 Welcome to the "About Us" page! We hope you'll take the time to read how we came to be, operate and what our mission is here at By Chance Caviary.

- OUR HISTORY-Firstly, "We" references myself, Betty, the critters and my assistant, Penny, whom is also my mother and housemate. I have always had a lifelong passion for critters, genetics and animal reproduction. I began raising hamsters in 1995, with Sweet As Honey Hamstery. At only 8 years of age, I researched every night after school to learn all about their care/husbandry as well as color combinations and good breeding practices. I added fancy mice/rats, Egyptian Spiny Mice and Guinea Pigs. At the age of 14, I began working at a local Veterinary Hospital (on a worker's permit) learning the medical aspect of animal care as well as managing my Aviary as I began working with Cockatiels & Finches in addition to rodents. I finished High School by taking 3 years in 1 as I found it to be too time consuming and it interfered with my breeding goals/employment. I graduated at 16 years of age with a 4.0 GPA and was finally free to fully pursue my dreams. Over the following decade, I worked as a Veterinary Assistant and managed a number of various breeding programs including small animals, cats and dogs. I purchased my first home in the country alone with my critters at the age of 20 and carried out my breeding programs; focusing on my kennel and cattery at the time. I downsized at the age of 26, moving into an in-town apartment. I took a break from breeding for a few years and felt it was unfulfilling. In 2015, a former coworker contacted me to find a home for her 2 girl Guinea Pigs. I took them as I found them very conducive to apartment life given their easy going, non destructive nature. I quickly realized they were actually a male/female pair. Six weeks later, I welcomed my first Guinea Pig litter (in my adult life.) I fell in love with raising the little creatures all over again! And so, By Chance Caviary was born and aptly named, since it was a product of happenstance. Since 2015, I purchased a home in the country with my mom/assistant, Penny. I have since added bunnies and hedgehogs to my program. I also have 3 gorgeous Persian cats! Penny has 3 small parrots of her own. All of our pets share our 3 story home.

-OUR MISSION-Regardless of whichever species I am currently raising, the same fundamental goals apply. Firstly, I discriminately breed based on temperament and health. All animals used for breeding must have outstanding, friendly, even dispositions. They must also be healthy and free from any genetic defects. I also breed toward longevity, type, and beauty; as secondary goals. I try to breed long lived, conformationally correct animals. "Paint jobs" such as interesting markings/colors etc are a bonus, and considered to be the icing on the cake.

-OUR CARE-All animals are raised indoors with lots of love, daily handling and attentive care. We breed very small scale producing only a few litters every couple months; based on the species. Enclosures are cleaned every few days as needed. We use spacious enclosures for all of our critters in a variety of brands/styles such as Marchioro, C&Cs, etc. Plenty of environmental stimuli is provided such as toys, hidden huts, edible mats, treat balls, etc.
-BEDDING-We have used virtually every bedding under the sun. None has provided the superior absorbency, odor control, and affordability as wooden bedding. Our favorites are Pine shavings and Wooden pelleted bedding. Pine is controversial as some studies have linked the phenols in pine to organ dysfunction/failure. Kiln dried pine supposedly obliterates these risks.
-DIET-We take nutrition VERY seriously. Our Guinea Pigs & rabbits receive various Oxbow, Kaytee and feed hay such as Timothy, Meadow, Oat, Alfalfa, etc. Guineas receive Blue Seal Guinea Pig Pellets mixed with Oxbow Guinea Pig, Higgin's Sunburst and various treats/supplementation such as Oxbow Vit C treats, Oasis Vit C water additive, commercial treats and various fresh foods. Rabbits receive Blue Seal Top Hutch 18, Higgin's Sunburst Rabbit, as well as numerous commercial treats and fresh foods. Hedgehogs receive a rotating diet of premium Cat food kibble such as Blue Wilderness, Taste Of The Wild, Fromm's, Purina Naturals, etc. They get a dried insect mixture of crickets/mealworms added into their kibble. They are also supplemented with Hedgie friendly foods such as scrambled eggs, fresh veggies/fruits, cottage cheese, cooked lean meats like salmon, fish, chicken, etc. We are constantly adding new and exciting foods to our pets' menus.

-PRICING-Our critters are priced according to the level of care, time, effort and expense we have invested. A number of variables factor into current pricing such as variety, rarity, supply/demand, bloodline, etc. Below is a guideline.Guinea Pigs- $75 each and upRabbits- $75 each and upHedgehogs- $350 each and up
-POLICIES-1.) We are located in Bangor, Maine, USA and do not offer shipping. All critters must be picked up in Bangor/Brewer. 2.) We operate as a "Closed Caviary." This means we aren't open to any type of public visitation or at home visits. This is what's safest for our family, your family and our critters. You will NOT get an accurate feel for your potential critter's personality or demeanor by visiting him/her in person prior to selection. They are more reserved around strangers and will not display their true colors during a brief visit with them. They will require an acclimation period to become adjusted to you as new owners, their new cage, new environment, etc. All pocket pets are available for selection via our site; through photographs and descriptions we are able to provide pertaining to individual personality details. We always represent our pets' personalities as accurately and honestly as possible. However, we ask you please remember, they are animals with their own minds and wills. The traits we observe with us can vary once in a new home; with new owners/handlers, a new herd/cagemate etc. Therefore, temperaments/personalities cannot be guaranteed.3.) Our animals are available to approved homes only, as non-breeding pets unless otherwise discussed/agreed upon. We ask you please keep us updated with regards to your BCC babies at least twice annually and certainly before relinquishing ownership, as we reserve first right to reacquisition.4.) All deposits/monies received are *ALWAYS* non-refundable and non-transferable. This means, if you've placed a deposit on a specific pet, you may NOT change your mind on chosen pet without forfeiting your original deposit. A separate deposit must be placed for the newly chosen critter. 5.) While we do our very best to maintain our critters in top condition, they are kept in herds and minor scratches/bites may occur in play/scuffles. All pets are adopted out with no ongoing health/temperament guarantee, and all deposits/monies collected are always non-refundable for any reason. There are many common issues known to small animals, including but not limited to; mites/lice/parasites, skin/fungal infections (ie ringworm, hairloss), URIs, diarrhea, eye/ear infections, etc. These can all have a very sudden onset and aren't anything we are able to guarantee against. You have the option of a pre-purchase Veterinary exam for your baby, at an additional expense. If this is not requested, your acceptance of your pocket pet at the time of meet signifies full approval of their current condition, regardless of what issues may arrive at any time after exchange/sale. We are available for email support throughout the lifetime of your BCC critter via email@bychancecaviary.com. 6.) Deposits are always required to reserve an animal. Deposits are $50-$100 pet pet depending upon species/variety. This reserves the animal until it is 8 weeks old. If the animal is not paid for in full and picked up by 8 weeks of age, unless otherwise agreed upon, it will be available for sale again and the deposit and/or any monies collected on its behalf will be forfeited. Pets may be held beyond their 8 week mark at a boarding rate of $30 per 30 days per pet. Other than retaining our own animals beyond 8 weeks, we do not offer boarding services. 7.) We are revising this page- more to follow.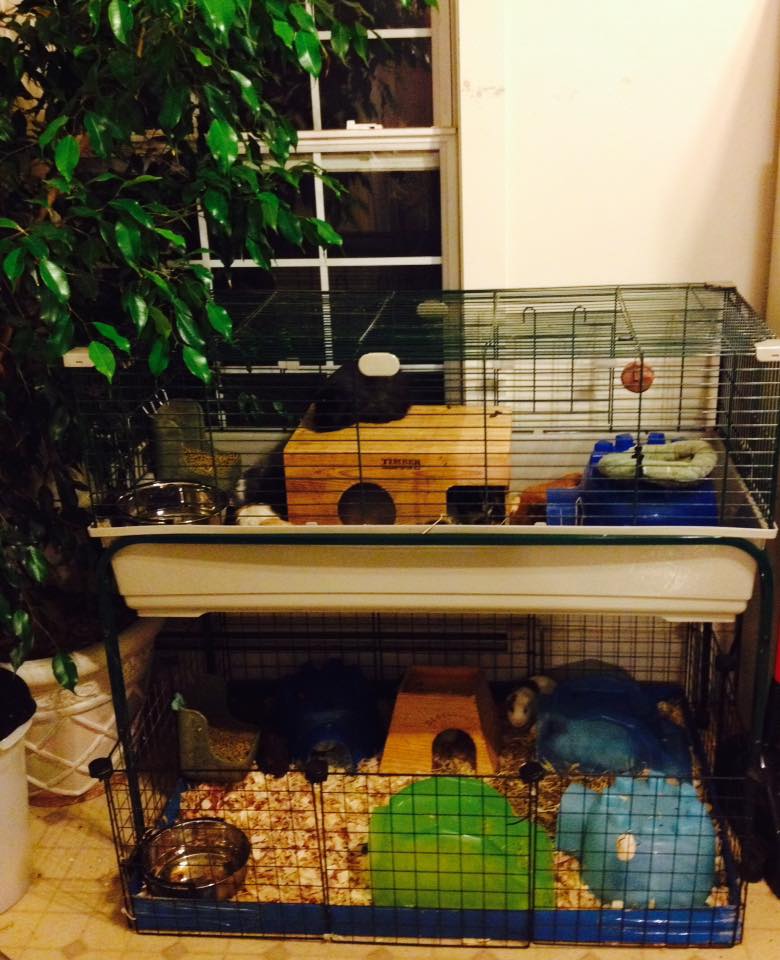 boys
+